12/01/2022
Vietnam – Korea University of Information and Communication Technology sets the exit requirement for students based on the TOEIC test
With the ambition to improve all activities and operations of the school toward international standards, especially the English training, Vietnam – Korea University of Information and Communication Technology (VKU) has recently signed a cooperation agreement with IIG Vietnam in "the use of TOEIC test as an exit requirement for the undergraduates".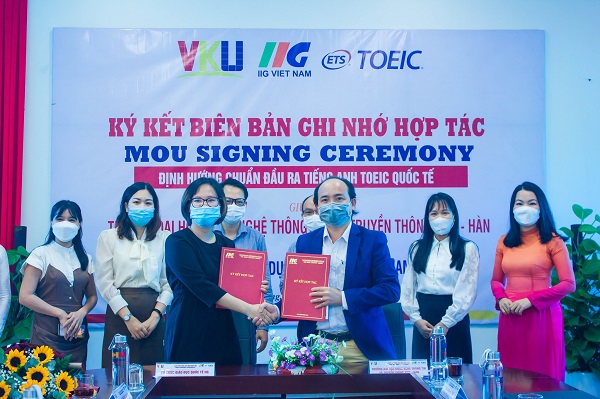 Attending the Signing Ceremony were Assoc.Prof.Dr. Huynh Cong Phap – Rector of the school and Ms. Pham Thi Khanh Phuong – Director of IIG Vietnam Da Nang Branch, and representatives of relevant departments.
According to the MOU, VKU and IIG Vietnam will carry out activities following a specific roadmap. These activities included TOEIC-oriented teacher training, TOEIC Placement Test administration, and the adoption of English learning tools, all to help students graduate with a TOEIC score of 500.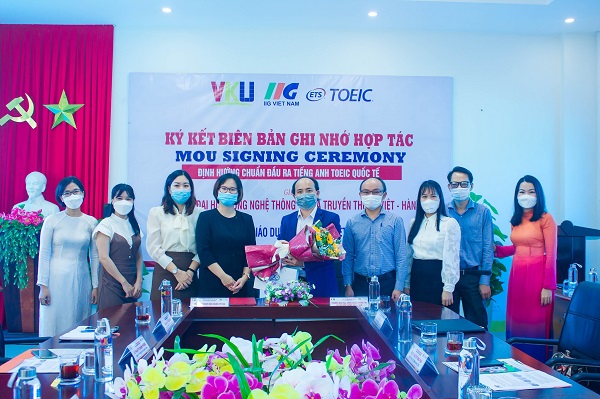 Assoc.Prof.Dr. Huynh Cong Phap – Rector of the school emphasized: "With the ambition to establish an innovative learning environment that allows students grow to their fullest potential, the school lays great emphasis on enhancing the quality of training, especially the English training based on international standards in order to best equip students for their working lives. This strategy is also in line with the school's objectives towards the international university model."
The signing ceremony marked the official cooperation between the two parties. Within the scope of this cooperation, VKU students will be equipped with essential English skills to meet the job requirements, especially in fast-growing industries like Information Technology, Communication and Digital Economy.