1. Introduction
IC3 – The Internet and Computing Core Certification is an international standardized test that assesses an individual's knowledge and ability to use computers, software and the Internet. It is delivered by Certiport – the world's leading provider of digital certification exam based in the United States. The IC3 certification reflects foundation skills needed in today's academic and business environments. The test is conducted online in 25 languages, including Vietnamese.
The IC3 exam is currently delivered in 150 countries through an expansive network of more than 12,000 Certiport Authorized Testing Centers, with an average of 2 million test takers per year. An IC3 certificate doesn't expire and is globally recognized.
In Vietnam, IC3 certification has been recognized by the Ministry of Information and Communications as the equivalent to the basic IT skill standards specified in Circular 03/BTTTT-CNTT.
2. Benefits of IC3 Digital Literacy Certification
For students
Verify your computer skills with an international certification program.
Equip yourself with effective tools to support learning.
Master the skills needed to use basic applications and thrive in the digital age.
Better prepare for the next level of education.
For employees
Clearly demonstrate your knowledge and skills in using computers and the internet in the digital age;
Increase productivity and work efficiency.
Improve your confidence at work.
Assess your current digital literacy make appropriate decision for personal development. – Highlight your resume with international credentials.
3. Exam Versions
There are two versions of exam available: IC3 GS5 and IC3 GS6. The differences between the two versions are summarized in the table below:
Content
IC3 GS5
IC3 GS6
Standard
Building on Global Standard 5
Building on Global Standard 6
Content
Windows 10 platform – Office 2016
Windows 10 and Office 365 platform
More advanced digital literacy contents
GS6 (Global Standard 6) is the global standard for the ability to use the latest technology applications, digital devices and recognized by prestigious organizations around the world. GS6 is built based on the standards of the International Society for Technology in Education (ISTE) – USA. IC3 GS6 certification is the latest version of the IC3 Digital Literacy program which is designed to assess the skills needed in the digital age and ensure candidates keep up with the latest changes in technology applications and modern technical devices.
4. IC3 – GS6 Certification
IC3 GS6 certification is composed of three exams, each awarding its own certificate, that validate an understanding of each domain at the basic, intermediate, and advanced levels.
Certified IC3 GS6 Level 1
Certified IC3 GS6 Level 2
Certified IC3 GS6 Level 3
When a candidate successfully passes all three Global Standard Six certification exams, they are awarded the IC3 Digital Literacy Master Certification.
5. Exam Structure and Objective Domains
Structure
IC3 GS6 certification is divided into 3 levels, corresponding to 3 certification levels
Level 1 measures knowledge of fundamental concepts and essential components.
Level 2 requires a working knowledge of each of the seven skill groups.
Level 3 validates an advanced understanding of digital literacy
Each level measures against seven major domains that are essential to success
Technology Basics
Digital Citizenship
Information Management
Content Creation
Communication
Collaboration
Safety and Security
In each domain, the knowledge level will be gradually increased according to the exam levels (level 1, level 2, level 3)
6. Exam characteristics
| | | | | |
| --- | --- | --- | --- | --- |
| | Number of questions | Time (minutes) | Maximum score | Passing score |
| Level 1 | 45 | 50 | 1000 | 700 |
| Level 2 | 45 | 50 | 1000 | 700 |
| Level 3 | 40 | 50 | 1000 | 700 |
7. Transcripts and Certificates
Once an exam is completed, the candidate will know the score. Each candidate is provided with an online account. When they pass the component exam, they can log in to the website www.certiport.com and download the online transcript and certificate. An online certificate has the same value as a hard copy certificate. When a candidate successfully passes all three component exams, they are awarded the hard copy of IC3 Digital Literacy Master Certification provided by Certiport.
Online certificate and transcript sample: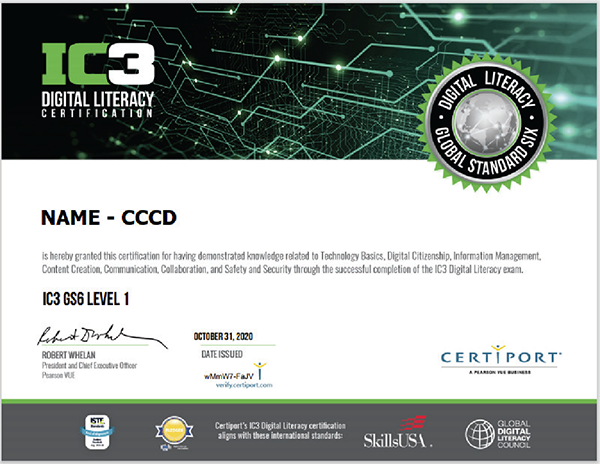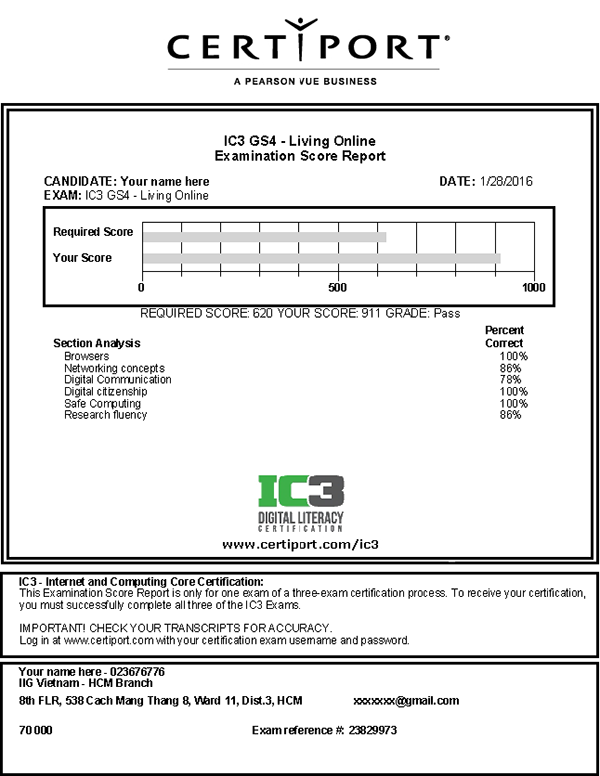 Candidates can enter the Credential Identification Code at www.verify.certiport.com to check the authenticity of the issued certificate.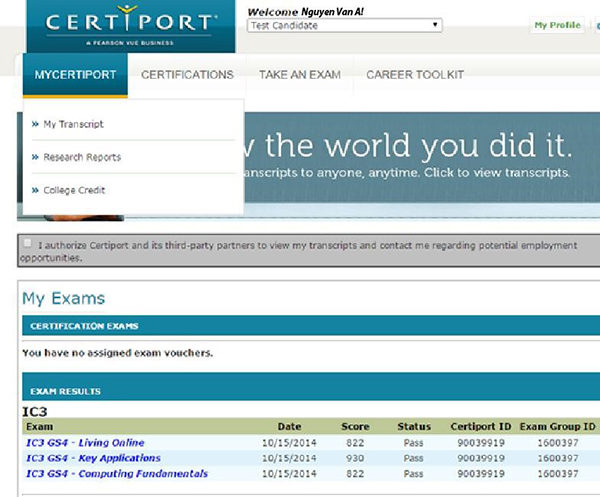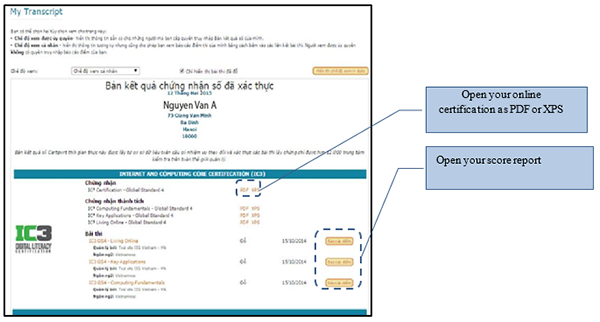 8. How to register for the Test
– Candidates register online directly by clicking the "Register for Exam" button below
Documents
Updating data...