03/11/2022
Representatives of Edusoft (USA) discuss about the application of English Discoveries Integrated Program in Phu Tho town
Representatives of Edusoft paid a visit to Secondary Schools in Phu Tho town and recommended pedagogical practices which connect in-class studying and online ED learning in order to enhance the effectiveness of sudents' learning.
In the process of improvement to bring the most suitable and effective English learning Program to every student, on October 25, the representatives of Edusoft (a subsidiary of the Educational Testing Service – ETS), also ED solution provider, have visited and openly discussed with the representative of Phu Tho DOET, School Administrators, teachers and students of Hung Vuong and Phu Ho Secondary School in Phu Tho Town.
During the trip, the delegation visited the classes during their English lessons and interacted with students. The representatives of Edusoft also discussed the challenges the teachers and students may have when using English Discoveries Integrated Program. They recommended pedagogical practices which effectively connect in-class studying and online ED learning in order to enhance the effectiveness of students' learning.
Specially, Mr. Michael Lahav (Edusoft International Sales Director) and Mr. Jack Pillemer (Edusoft Academic Director) have interacted closely and friendly with students from Hung Vuong and Phu Ho Secondary School.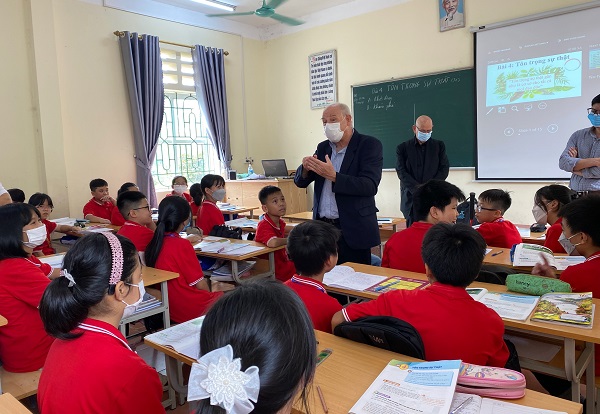 Applying the ED Integrated Program since 2019-2020, Phu Tho town has been the leading area in Phu Tho province in implementing the international English and informatics program in compliance with the US standards under the cooperation agreement between IIG Vietnam and the Phu Tho DOET. Hung Vuong and Phu Ho Secondary School are two typical secondary schools in the movement of teaching and learning programs in compliance with the US international standards and quite effectively implementing the Integrated ED Program. With the critical orientation and consideration of the schools, students are able to access and develop comprehensive English skills according to international standards, helping them become more confident, expand other learning opportunities for students.
Ms. Nguyen Ngoc Huong Giang – Representative of the DOET of Phu Tho town shared her appreciation to the application of the ED Integrated Program to Hung Vuong and Phu Ho Secondary School. This is an opportunity for the students to improve their foreign language proficiency, access to international standard learning materials, thereby expanding their learning opportunities. She also expressed that with the cooperation of the DOET of Phu Tho Town and IIG Vietnam and the close supervision of the school in the implementation process, the program can maximize its effectiveness and can be replicated in the coming time.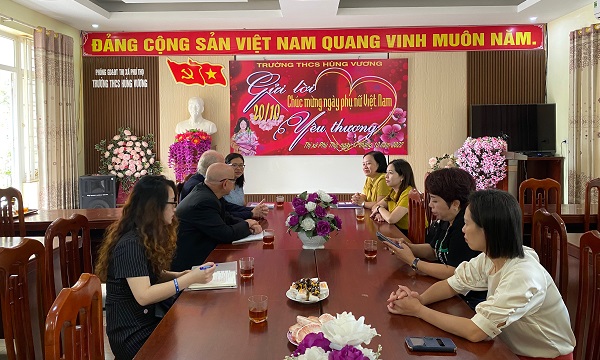 In recent years, ED Integrated Program has been selected as an online solution to improve the quality of English training for students by a wide range of DOETs (Dong Nai, Tien Giang, Vinh Long), universities, colleges, international schools, high schools  and secondary school such as Hanoi University of Architecture; University of Foreign Languages ​​- Hanoi National University, Ho Chi Minh University of Economics; Thanh Hoa University of Culture, Sports and Tourism; College of Mechanics and Irrigation (Dong Nai); Hoang Van Thu High School (Hoa Binh); Phan Huy Chu High School (Hanoi); Nguyen Tat Thanh Secondary and High School (Hanoi); Hung Vuong Secondary School, Phu Ho Secondary School (Phu Tho); Tran Nguyen Han High School (Hai Phong) and so on.
Over years of implementation, in the context where English ability of Vietnamese students has continuously increased, the integrated English Discoveries (ED) content has regularly been updated and improved by the academic department of IIG Vietnam to not only adapt to the mainstream textbooks but also suit students at different levels. As a result, the integrated ED program has received more and more attention and been applied to various levels nationwide.