1. Introduction
The TOEFL Primary tests, which are part of the TOEFL® Family of Assessments developed by the Educational Testing Service (ETS), are the world's leading standard in measuring Primary school students' English proficiency, helping schools and parents choose an appropriate learning pathway for students.
By getting familiar with these advanced international standards, students can not only compare their own English level with their peers from around the world, but also build themselves a strong foundation for future success.
Primary is the most important school level and has a huge impact on students' acquisition of knowledge and critical thinking skill. As for language subjects like English, deciding the best age to start learning and building a suitable learning path for young students have important roles in their journey to conquer this language.
2. Benefits of The TOEIC Primary score report
TOEFL Primary Score Report is issued by the ETS and globally recognized.
It provides detailed feedbacks on the student skills through a level description.
It advises students on what to do next to improve their English skills.
In Vietnam, the TOEFL Primary tests has been recognized as the standard for assessing English levels of Primary students by the Ministry of Education and Training. The test results can also be converted into relevant proficiency levels against the Foreign Language Proficiency Framework for Vietnam and Common European Framework of References for Languages (CEFR).
The test results are also used in several Vietnam secondary schools' student enrollment and placement.
3. Test takers
The TOEFL Primary tests are designed by ETS specifically for Primary students to evaluate their English proficiency level and help them develop reasoning skills at an early age.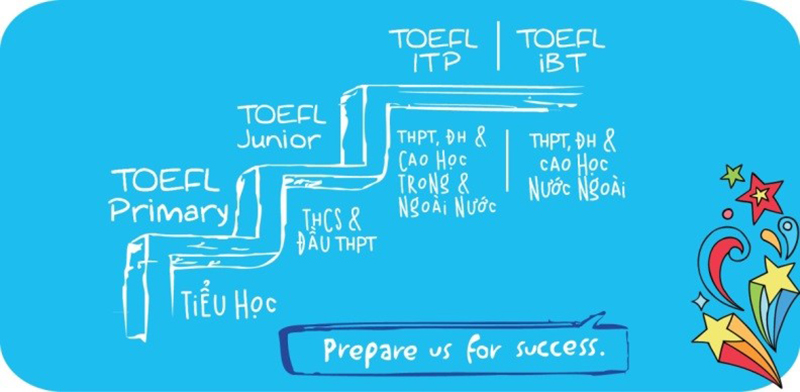 The introduction of the TOEFL Primary test has completed the TOEFL family of assessment, making it a comprehensive English measurement system of different school levels.
4. Test structure
The TOEFL Primary tests are offered at 2 levels, Step 1 and Step 2:
| | | | | | |
| --- | --- | --- | --- | --- | --- |
| Exam | Delivery method | Number of questions | Time (minutes) | Level | Scale score |
| TOEFL Primary Step 1 | Paper | 72 | 60 phút | 1-4 stars | 100-109 |
| TOEFL Primary Step 2 | Paper | 72 | 60 phút | 1-5 medals | 104-115 |
a. The Reading and Listening test — Step 1 is intended for students in the earlier stages of English learning and covers:
familiar contexts (school, home, playground)
basic formulaic expressions
basic vocabulary and phrases related to common objects and people
short and simple requests and directions
short and simple text relevant to everyday experiences
b. The Reading and Listening test — Step 2 is intended for students who have acquired some communicative English skills and covers:
basic expressions, requests, phrases and directions
simple short stories and conversations on topics beyond everyday experiences
unfamiliar words given sufficient amount of contextual clues
simple content-based texts
TOEFL Primary® Reading and Listening Test — Step 1 Sample Questions (PDF)
TOEFL Primary® Reading and Listening Test — Step 2 Sample Questions (PDF)
5. How to register for the tests
– Candidates' parents can register for their children at IIG Vietnam's offices. When registering for the test, you must present your child's:
03 3×4 ID photos taken within 03 months (on the back of each photo, clearly write: Full name, Date of birth)
Original birth certificate
– Or register online by clicking the "Register" button below.
6. TOEFL Primary preparation tool
To respond to the high demand for test preparation tools, IIG Vietnam has recently launched the new website https://online.iigvietnam.com to bring online learning tools to more and more people across the country.
With simple clicks on a phone or a computer, parents can find information and easily follow the purchase process to have access to English Learning Center (ELC) – the online TOEFL Primary preparation tool delivered by ETS.
Documents
Updating data...