1. Introduction
Launched in 1979, the TOEIC Listening and Reading test has set the standard for assessing English-language listening and reading skills needed in the business environment:
Listening skills are important for face-to-face communication, meetings, video conferencing, podcasts and telephone conversations.
Reading skills are necessary for email, reports, newsletters and other forms of business correspondence.
These are two especially important foundation skills, through which the other two skills – Speaking and Writing – can be indirectly assessed.
2. Benefits of the TOEIC test
Build a More Effective Workforce
The TOEIC test offers a common standard of measurement for comparing the language skills of current and potential employees. Test content reflects real-world tasks and provides you with the information you need to easily:
Recruit, place and promote the most qualified employees;
Identify job-training requirements;
Assign employees to positions overseas;
TOEIC Listening and Reading and TOEIC Speaking and Writing tests will provide employers with a reliable measurement of all four English-language communication skills.
Global Advantage
With about 7 million tests administered every year, the TOEIC tests are the most widely used around the world, with 14,000+ organizations across more than 160 countries rely on the TOEIC tests to measure English proficiency in the international business environment. In Vietnam, the TOEIC test has been used as one of graduation requirements at more than 130 universities, colleges, vocational schools and as a hiring criterion in nearly 500 major companies nationwide.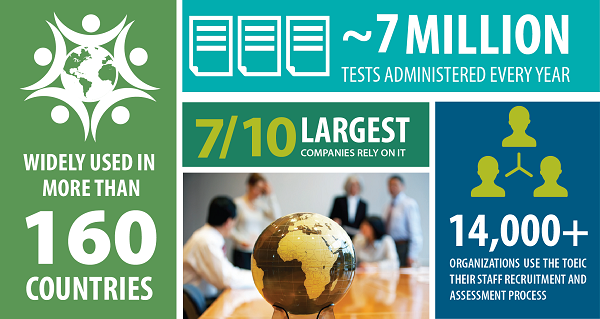 Every candidate taking the TOEIC test receives a score certificate with their score on each section of the test. Each section's score ranges from 5 to 495, which is converted from number of correct responses on each section. The certificate also provides detailed score analysis and the percentage of questions the test taker answered correctly for specific abilities measured, which helps candidates to understand their strengths and opportunities for improvement.
3. Test Format
The TOEIC test is a two-hour multiple-choice test that consists of 200 questions divided into two sections.
Listening Section: The Listening section tests how well you understand spoken English. It consists of four parts and contains 100 questions. You will be asked to answer questions based on a variety of statements, questions, conversations, and talks recorded in English.
Total time: approximately 45 minutes.
Reading Section: The Reading section includes three parts, testing how well you understand written English. You will read a variety of materials and respond at your own pace to 100 questions based on the content of the materials provided to you.
Total time: 75 minutes.
TOEIC LISTENING SECTION
TOEIC READING SECTION
PART
Listening Comprehension: 100 items
Reading Comprehension: 100 items
1
Photographs: 6 questions
Incomplete Sentences: 30 questions
2
Question-Response: 25 questions
Text Completion: 16 questions
3
Conversations: 39 questions;
13 conversations with 3 questions each
Single Passages: 29 questions;
10 reading texts with 2-4 questions each.
4
Talks: 30 questions;
10 talks with 3 questions each
Multiple Passages: 25 questions;
5 sét of double or triple passages with 5 questions per set.
With the score range of 10-990, the TOEIC test can assess all levels of English use (from beginner to native-like proficiency), be suitable for all job positions, from entry level to senior executive.
4. How to register for the test
Candidates register online by clicking the "Register" button below.
5. TOEIC preparation tool
To respond to the high demand for test preparation tools, IIG Vietnam has recently launched the new website https://online.iigvietnam.com to bring online learning tools to more and more people across the country.
With simple clicks on a phone or a computer, individual can find information and easily follow the purchase process to have access to TOEIC Official Learning and Preparation Courses (OLPC) – the online TOEIC preparation tool delivered by ETS.