28/03/2022
Kien Giang University and IIG Vietnam cooperate in adopting the international English and Technology standards for students
On March 22, Kien Giang University and IIG Vietnam Education Organization signed a Memorandum of Understanding (MOU) on cooperation in adopting international English and Technology standardsto improve the training quality of the University.
Attending the signing ceremony, from Kien Giang University, there were Dr. Nguyen Tuan Khanh – Secretary of the Party Committee, Rector, and other representatives from the University Board and departments; from IIG Vietnam, there was Ms. Le Thi Thanh Thuy – Deputy Director of IIG Vietnam, Ho Chi Minh City branch.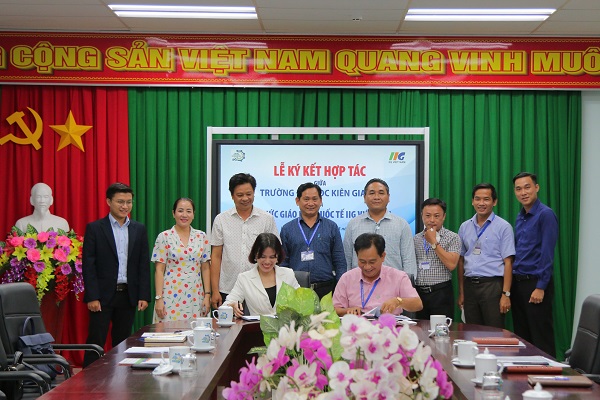 At the signing ceremony, the two parties discussed training programs and solutions to reach the goal of standardizing English proficiency and Digital literacy for students using TOEIC and MOS certifications.
Under the MOU, IIG Vietnam will (1) give the University advice on TOEIC and MOS/IC3 teaching materials and textbooks, (2) organize the TOEIC and MOS/IC3-oriented teacher training, and (3) provide the learning tools and programs to facilitate TOEIC and MOS/ IC3 teaching and learning.
In addition, IIG Vietnam has selected Kien Giang University to be an IIG-authorized test site to administer TOEIC, MOS, IC3 tests in Kien Giang province. From the academic year of 2022-2023, Kien Giang University will initially use TOEIC and MOS certification as the compulsory output standards for some majors and optional for others; and will recognize IC3 certification as an optional output standard for all students of the University.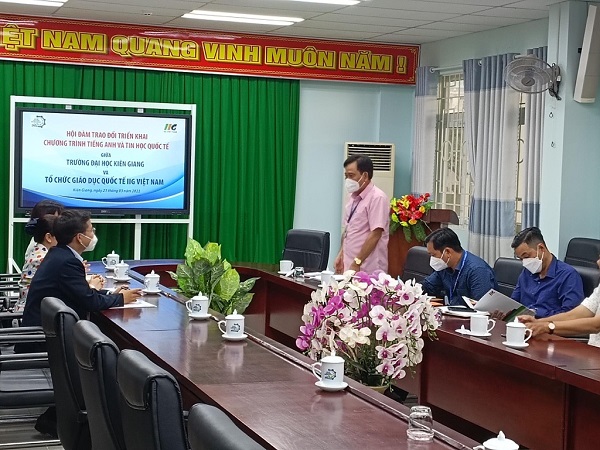 Speaking at the signing ceremony, Dr. Nguyen Tuan Khanh – Secretary of the Party Committee, Rector, Kien Giang University, said that the cooperation with IIG Vietnam would allow students to achieve better academic results and gain work-readiness skills so that they could find a decent job at major organizations and enterprises.
With IIG's 20-year experience and proven solutions, it's believed that the cooperation will achieve its aims, equipping students with professional advantages and enabling the University to fulfill the mission of providing high-quality human resources for the country's economy.