25/11/2020
IIG Vietnam "shakes hands" with NAL Solutions Da Nang to standardize English and IT skills for staff following the international TOEIC and MOS standards
Recently, on November 18, 2020, IIG Vietnam and NAL Solutions Da Nang signed a cooperation agreement on standardizing Information Technology skills and foreign language skills following the international standards MOS and TOEIC.
Participating in the signing ceremony, on the side of NAL Solutions, there were Mr. Ich Nguyen – CEO and Mr. Nguyen Quoc Nguyen – Project Director and leaders of departments. On the side of IIG Vietnam, there was the participation of Ms. Pham Thi Khanh Phuong – Managing Director of IIG Da Nang and representatives of related departments.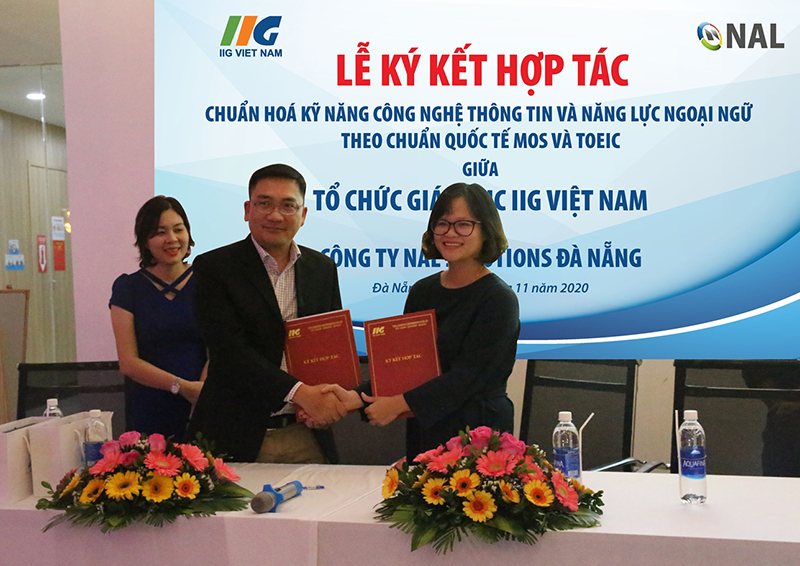 NAL Solutions is a technology company, providing technology experience for the Japanese market, Asian countries and the world; At the same time, the company aims at an innovative organization that can develop sustainably, develop the best human resources and create a happy working environment. With the nature of work related to technology and often working in a multinational environment, NAL Solutions' staff must meet certain English requirements according to international standards. NAL Solutions' leadership has determined the importance and necessity of Informatics and English in improving the qualifications and working skills of its staff, especially the administrative and human resources staff to achieve the best performance. Therefore, NAL Solutions has cooperated with IIG Vietnam – National Representative of Certiport Informatics Testing Corporation (USA) and the American Educational Testing Service (ETS) for training, assessing skills for staff according to MOS and TOEIC standards.
On the basis of the cooperation, IIG Vietnam will survey the level of the Office Informatics for staff of NAL Solutions by Gmetrix every year; consulting and building solutions to improve the level of Office Informatics for employees at NAL; consulting TOEIC standards for each job position;… On the side of NAL Solutions, the company will register for an English proficiency test for employees using the TOEIC test; together with IIG Vietnam to deploy training courses to improve office IT skills according to MOS standards for staff every year; … Especially, we also commit to support and cooperate in other items such as communication; participate in attractive networking and gratitude events within the framework of the Global Enterprise program during the cooperation period; provide back-and-forth recruitment needs and profiles of candidates with high MOS and TOEIC scores to serve the recruitment work at NAL, in which NAL will apply TOEIC 450 points or higher to candidates and give priority to candidates with MOS certificate;…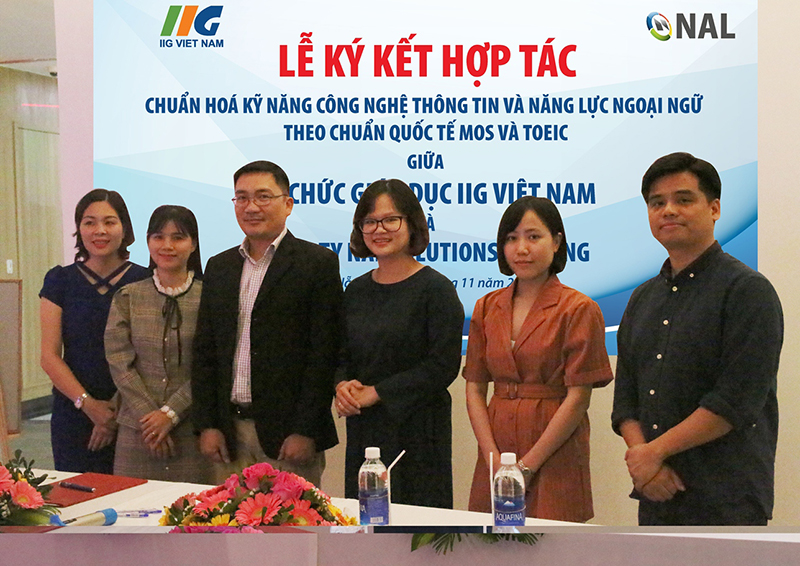 The signing ceremony marked a new step in the human resource development of NAL Solutions in improving the level and skills of Informatics as well as English ability for staff according to MOS and TOEIC standards. Hopefully, the terms of cooperation will soon be successfully implemented and lead to a new cooperation in the future to contribute to improving productivity and work efficiency in a globalized environment.