11/06/2021
Webinar: "TOEFL Junior – Current Choices, Future Benefits"
In Vietnam, the TOEFL Junior test is recognized by the Ministry of Education and Training for its quality, which is the standard for assessing the output foreign language ability of secondary school students. The TOEFL Junior certificate not only helps students have an advantage in the admission process or apply for scholarships to many quality high schools at home and abroad, but also helps them easily practice at higher levels in the roadmap and conquer other international certifications in the future. Therefore, TOEFL Junior test is getting more and more interested by parents and students.
With these practical benefits, in order to help teachers have a specific and comprehensive view of the TOEFL Junior test so that they can help middle school students improve their English skills in general and prepare for the test. International TOEFL Junior in particular, IIG Vietnam Education Organization – National Representative of the American Educational Testing Service (ETS) in Vietnam, Laos, Cambodia and Myanmar would like to introduce: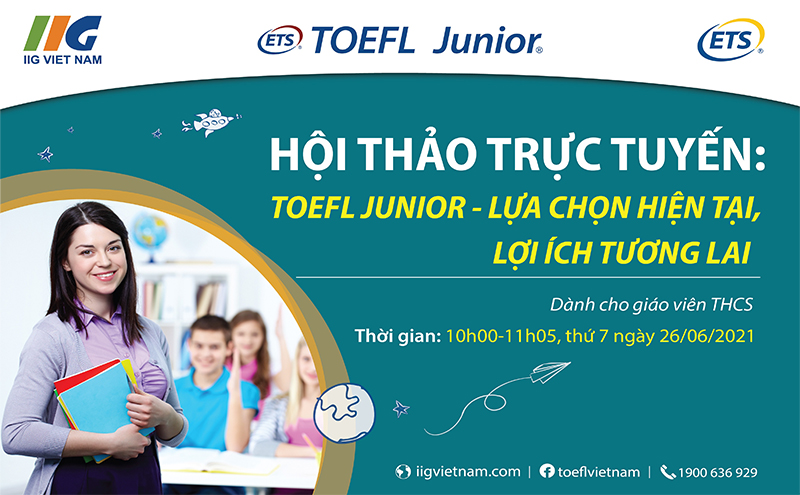 – Register to attend for free here: http://bit.ly/dkhoithaoTOEFLJunior
– Registration deadline: June 23, 2021.
This webinar will help teachers:
– Get an overview of the TOEFL Junior test and the outstanding benefits of the TOEFL Junior certificate for high school students in Vietnam.
– Discuss ways to integrate TOEFL Junior test preparation in the classroom English curriculum.
– Learn how to build courses based on TOEFL Junior orientation materials.
– Share useful materials to help students improve their English as well as get high scores on the TOEFL Junior test.
– Direct Q&A with Experts about questions during TOEFL Junior teaching.
– Receive many attractive gifts from the Organizing Committee…
Program Guest Speaker: Ms. Nguyen Kieu Oanh – Lecturer at University of Foreign Languages ​​- Vietnam National University, Hanoi; Training experts are accredited by the American Educational Testing Service (ETS), many years of research & teaching oriented to the TOEFL Junior test.
Note: The link to attend the workshop will be notified immediately after you successfully register to attend, and will also be sent to your email before the program date.
For more information or support, please contact us via email info@iigvietnam.edu.vn or hotline 1900 636 929 (during office hours).
Best regards!
IIG Vietnam