31/12/2021
IC3 Certification – the boarding pass to Industry 4.0 era
Digital literacy is becoming increasingly important for every individual all over the world. In the 4.0 era, digital literacy is as essential as reading and writing.
The significance of digital literacy in society
The digital revolution is changing our world faster than ever. Knowledge and information are unleashing new opportunities. Basic services are being transformed into E-services. Education and learning are increasingly happening online, anywhere, anytime. But without digital literacy, the opportunities of the digital world turn into obstacles for anyone.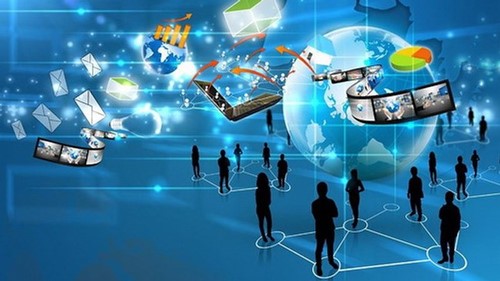 The global spread of Covid 19 has forced a rapid shift to distance learning, which has opened our eyes to the power of digital learning but also highlighted the gap between those who have digital skills and those who don't. Over half of the world's population lack the basic skills for computer-based activities. This will become an obvious disadvantage for these people when the world is spinning around technology.
Become a global citizen with IC3 Certification
IC3 Digital Literacy Certification is an international standardized test that assesses an individual's knowledge and ability to use computers, software, and the Internet. It is delivered by Certiport – the world's leading provider of digital certification exams based in the United States. The IC3 certification reflects foundation skills needed in today's academic and business environments.
At the International Conference on Digital Literacy which was recently held online by the International Testing Center ITC and Certiport, participants from several countries such as Vietnam, Indonesia, and Thailand have shared the cases of implementing IC3 certification programs in their countries. Vietnam has emerged as a country with many successful case studies of applying the IC3 training and certification program for various levels of education.
Vo Ha Quang Dinh – Dean of IT Faculty, University of Economics Ho Chi Minh City shared the IC3 training approach of his school as well as the benefits that it brought to the students.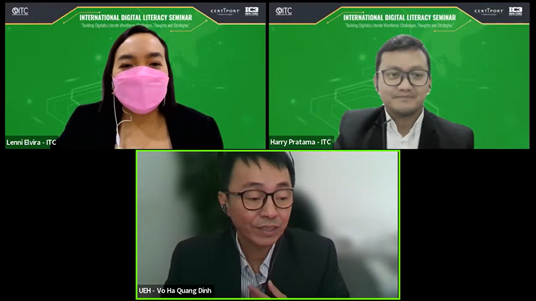 "IC3 helped our students understand how the operating system works, learn about peripheral devices, data, know how to deal with common software, hardware, and operating system problems. In addition, students can be able to use the common applications in the office computer software suite in academic or future workplace settings", said Mr. Vo. "With IC3 certificate, students' computer skills are recognized around the world. They can earn college credit whether they study at home or abroad. IC3 is the gateway to advancement in education and employment, especially in the context of Covid-19. Besides, the IC3 program raises students' awareness on responsible use of the Internet, helping them to become better digital citizens," he added.
Digital literacy is not only essential for college students and workers but also benefits the younger learners. "I do see a significantly increased need for validating digital skills at an early age, especially with digital citizenship. Most children are exposed to digital devices at an early age and have the opportunity to interact with others with these digital tools, a lot sooner than they even know how to read," said Sabrina Beck, Product manager of Certiport. "We have a program that is called IC3 Spark that is specifically for this age group. In Vietnam, they implement this program for students from Grade 3. Young students need to understand how to how to interact with others, and act online, and also know how to stay safe from threats, online threats and predators and to be able to recognize when something isn't right. And that is what IC3 Spark helps to do," she shared.
There is no limit to the human brain's capacity if they have access to information and knowledge. UNESCO calls on the world to reinforce educational activities, ensuring that all youth and adults achieve literacy and digital skills, strengthening communities, and building a better future. In the Digital Age, when each of us becomes a digital citizen and digital knowledge is a must, IC3 certification will be the boarding pass to the 4.0 Era.