14/10/2021
Announcement: IIG Vietnam's office in Da Nang to reopen on October 4, 2021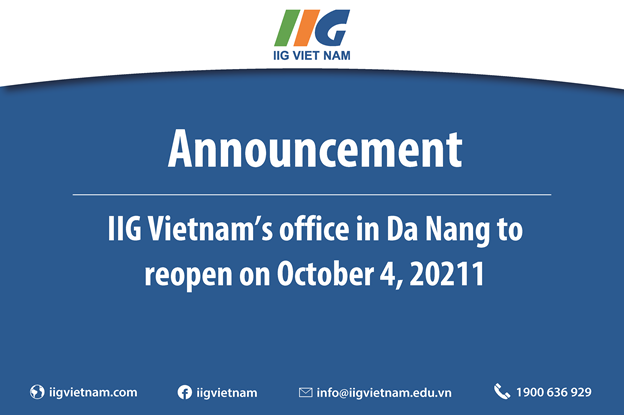 Dear Customers,
In order to ensure the safety of the candidates and the community, and in compliance with Official Letter No. 6589/UBND-KGVX and Directive No. 08/CT-UBND dated September 28, 2021, of the Chairman of Da Nang City People's Committee on safely and flexibly adapting to and effectively controlling the pandemic, we would like to announce that:
Our Da Nang office will reopen on October 4, 2021. The services that will be provided at the counter include test registration, certificate/verification letter/copy of score report issuance, request for a re-mark and information adjustment, exam result release.
According to Official letter No. 6589/UBND-KGVX, customers who come to our office must meet the following requirements:
– Have received at least 1 dose of COVID-19 vaccine 14 days prior to the arrival (except for people under 18 years of age and those who cannot be vaccinated for medical reasons);
– Have a QR code ready. Please follow the instructions in Official Letter No. 2815/STTTT-CNTT dated September 25, 2021, of the Department of Information and Communications to register for a QR code;
– Comply with the 5K rules: wear a mask, fill out the medical declaration at the reception, sanitize your hands, have your body temperature checked, keep your distance in the waiting area.
We hope that the pandemic will be under control soon so that we can satisfy your demands for our services. In the meantime, stay safe and prepare well for your upcoming exams.
For further information, please contact us via hotline 1900636929 (during office hours) or email info@iigvietnam.edu.vn.
Yours sincerely,
IIG Vietnam