23/04/2022
Updates on the National Finals of 2020 -2021 TOEFL Challenge & Periodical TOEFL Exam in Hanoi
After a year of hiatus due to the covid-19 pandemic, students in Hanoi as well as in other provinces have returned to schools and made themselves comfortable with approaches against the flu. This year, the Organizing Committee of TOEFL Challenge in cooperation with the DOETs and primary, secondary and high schools has scheduled to organize the National Finals (the third round) of the academic year 2020 – 2021 in Hanoi. The National Finals is the most anticipated round where the most talented students from different provinces will compete for the top spots. This final contest of TOEFL Challenge 2020-2021 promises to be very exciting and full of surprises.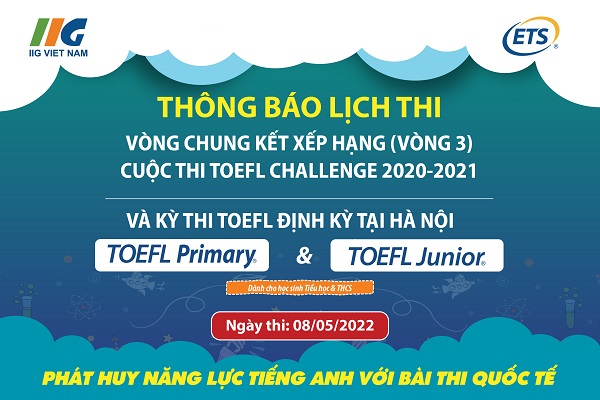 The Organizing Committee of the TOEFL Primary Challenge and the TOEFL Junior Challenge has the honor and pleasure to announce that the test date of the National Finals in Hanoi will be on May 5, 2022. The Provincial Second Round of the academic year 2020-2021 will also be re-opened for all candidates who were unable to attend the last year's test.
Besides, to meet the demand of numerous students, IIG Vietnam shall conduct periodical TOEFL Primary and TOEFL Junior tests in Hanoi. These periodical tests are for primary and secondary students who registered in both 2021 and 2022. These tests will also be conducted on May 5, 2022. Details on the time and location will be sent to the parents and candidates before the test date. Registering candidates for the periodical tests as follows:
Location: 3rd floor, Trung Yen Plaza, No. 1 Trung Hoa, Cau Giay, Hanoi
(Parents should ask the Receptionist for detailed instruction)
– Registration duration: April 16-28, 2022
– Parents submit the registration in person together with:
+ A notarized copy of the candidate's birth certificate or ID card or passport.
+ 2 photos size 3×4 taken within the last 03 months (Scanned images or photos altered by computer software are invalid)
+ Đối với thí sinh đã được cấp CMND/CCCD hoặc có Hộ chiếu vui lòng mang theo bản gốc CMND/CCCD/HC đến đăng ký dự thi, không sử dụng Giấy khai sinh. CMND/CCCD/HC phải còn nguyên bản: không rách/mờ thông tin, dấu giáp lai rõ ràng, không ép lại.
+ Candidates who have already owned an ID card or passport must present the original copy for verification. The birth certificates shall not be accepted in this case. This ID document must be original, with a clear sinking mark, not torn or deformed.
Fee:
–TOEFL Primary: 730,000 VNĐ
–TOEFL Junior: 820,000 VNĐ
Note: The results ofthe periodical/ supplementary tests will not be used to determine ranks in the TOEFL Challenge.
Contact us via email at toefl.hn@iigvietnam.edu.vn or hotline 1900 636 929 (during working hours).