10/05/2021
[Hanoi] Announcement of Postponement of the Final Round (Round 3) and Additional Exam Schedule for Round 2 of TOEFL Challenge in 2020-2021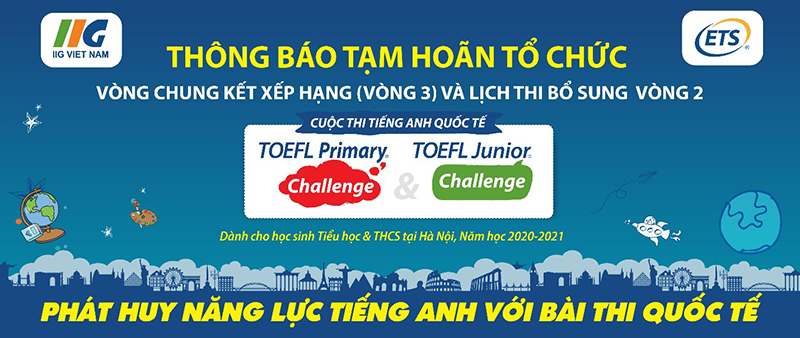 Dear Parents and Students,
In the face of the complicated outbreak of the Covid-19 and in the context that students need to stay at home, we understand that the first important priority is the safety and health of the candidates, and at the same time, in order to strictly following the government's instructions to prevent the spread of disease in the community, the Organizing Committee of the TOEFL Challenge International English contest for elementary and middle school students in Hanoi for the 2020-2021 school year would like to announce that:
– Postponing the Final Round (Round 3) on May 16, 2021 as announced.
– Postponing the additional exam schedule for candidates who have registered for the Region Selection Round (Round 2) but cannot attend (Please note: Candidates' results of Round 2 supplementary test are not used to determine the performance and prize in the TOEFL Challenge in Hanoi for the school year 2020-2021).
Based on the development of the epidemic and regulations of the authorities, the Organizing Committee will arrange the official exam date to maximize the safety of candidates. New exam schedule information will be updated and notified directly to registered parents as soon as possible. Please note and understand this situation!
Once again, thank you for your interest and registration to the contest. We wish to continue to bring a useful and meaningful English playground to the students when the situation allows.
For inquiries, please contact us via email toefl.hn@iigvietnam.edu.vn or hotline 1900 636 929 (during office hours).
Best Regards,
IIG Vietnam