1. What is MTA?
MTA: Microsoft Technology Associate (MTA) is an entry-level certification that validates fundamental technology skills and knowledge in Microsoft products. MTA exams, delivered by Certiport, are designed to assess and validate core technical concepts in three primary areas: Databases, Development and IT Infrastructure.
The MTA provides a thorough foundation for those looking to move on towards qualifications that are more technical such as Microsoft Certified Solutions Associate (MCSA), Microsoft Certified Solutions Developer (MCSD) and Microsoft Certified Solutions Expert (MCSE)
The MTA is not a qualifying certificate to take the exam for more advanced certifications, but only confirms the background knowledge in the field of Information Technology, valuable for career orientation for students.
2. Who should take the MTA exams??
IT-majored students and educators
IT staff
3. Exams tracks
The MTA certification program provides three tracks of exams, categorized by the career the individual want to pursue. These tracks includes:
Structure of the MTA exam
 Exams
Number question
Time (minutes)
Pass score
Developer Exams
Software Dev Fundamentals
51
50
70
Mobility and Device Fundamentals
45
50
70
Cloud Fundamentals
42-44
50
70
HTML5 Application Dev Fundamentals
56
50
70
Introduction to Programming using Block-Based Languages
38-39
50
70
Intro to Programming using Python
40
45
70
Intro to Programming using JavaScript
39
45
70
Intro to Programming using HTML and CSS
41
45
70
Intro to Programming using Java
44
45
70
Database Exams
Database Fundamentals
51
50
70
IT Infrastructure Exams
Windows Server Admin Fundamentals
57
50
70
Windows OS Fundamentals
55
50
70
Networking Fundamentals
59-63
50
70
Security Fundamentals
52
50
70
5. Certificate
Candidates are notified of the results immediately after completing the test. If the required score is met, the candidate will be issued a certificate in the form of an online download (soft copy).
After passing each exam, candidates will be granted 01 MTA certificate of corresponding content, for example: MTA Software Development Fundamentals certificate, MTA Windows Server Administrations Fundamentals certificate…
Reference certificate template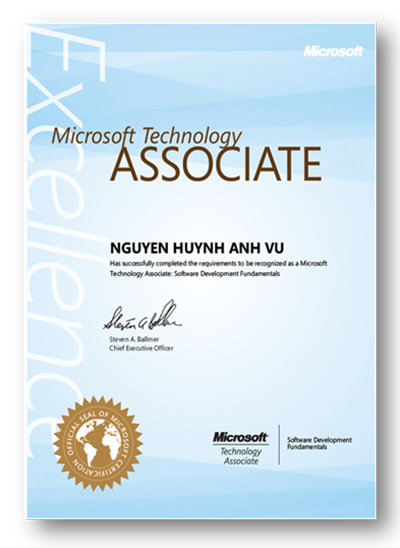 Documents
Updating data...